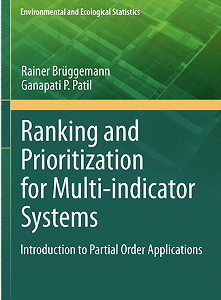 Book
Some background references
Aigner, M. 1984. Uses of the Diagram Lattice. Mitteilgn d.Mathem.Sem.Uni.Giessen 103 : 61-77
Annoni, P. 2007. Different ranking methods: potentialities and pitfalls for the case of European opinion poll. Environ.Ecol.Stat. 14:453-471.
Atkinson, M. D. 1989. The complexity of Orders. Pages 195-230 in I. Rival, ed. Algorithms and Order NATO ASI series, Series C: Mathematical and Physiscal Sciences, Vol. 255 ISBN 0-7923-0007-6. Kluwer Academic Publishers, Dordrecht.
Babic, D. and N. Trinajstic. 1992. Resonance Energy of Conjugated Hydrocarbons Derived by Cluster Expansions. Croatica Chemica Acta 65:881-892.
Balaban, A. T. 1976. Chemical Applications of Graph Theory. Academic Press, London.
Barthelemy, J. P., B. Leclerc, and B. Monjardet. 1986. On the use of Ordered Sets in Problems of Comparison and Consensus of Classifications. J.of Classif. 3:187-224.
Bonchev, D. and E. Gordeeva. 2000. Hierarchical Partially Ordered Sets Based on Topological Complexity. Match 42:85-117.
Brightwell, G. R. 1997. Partial Orders. Pages 52-69 in L. C. Barneke, ed. Graph Connections.
Brightwell, G. R. and D. B. West. 2000. Partially ordered Sets. Pages 717-752 in K. R. Rosen, ed. Handbook of Discrete and Combinatorial Mathematics. Boca Raton.
Statistics: published Articles/Books